TAKE A PEEK INSIDE
Chapter 2: Adding DevOps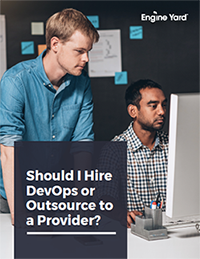 DevOps is the combination of philosophies, practices, and tools that increases an organization's ability to deliver applications at high velocity. DevOps teams use practices to automate processes and evolve products at a faster pace than organizations using traditional software development and infrastructure management processes. This speed enables organizations to better serve their customers. Ultimately, the end goal of DevOps is to reduce the time between the initial concept and the end result in the form of a production-ready application.
Whereas some companies can benefit from additional in-house team members, for many, this is an unrealistic option, due to time and money.
Benefits of Hiring DevOps
One of the benefits of DevOps is that expertise is on site and in house. This enables teams to have control and ownership of all processes. In this regard, DevOps can make the infrastructure as complicated as needed, as it doesn't have to fit into a vendor's tool.
Because this team is using a technology stack and tools to help it operate and evolve applications quickly and reliably, DevOps can independently accomplish tasks—such as deploying code or provisioning infrastructure—that would normally require help from other teams.
Risks of Hiring DevOps
On the surface, hiring staff may appear to be more affordable than outsourcing your production needs to a third-party vendor. Rather than paying for a third-party vendor and relying on outside experts, adding new employees is a controlled cost, not a variable one. However, adding additional resources brings its own costs with the realities of turnover and attrition plaguing any startup environment.
Internal DevOps teams have the capabilities to work on multiple things such as a test environment or a 99.99% uptime, as well as infrastructure deployment. However, this means that DevOps teams are often at full capacity, and sometimes may not have time for an app's infrastructure needs. Ultimately, as we mentioned above, relying on a DevOps team could potentially make it longer to build a Ruby on Rails production from scratch.
Download the entire ebook by filling out the form at the top of this page!