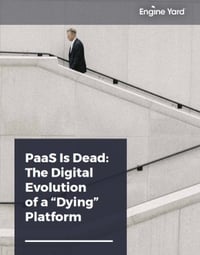 Platform as a Service (PaaS) is experiencing a digital transformation, and despite what some may argue, it's far from dead. Learn why PaaS continues to prove it has a promising future for DevOps.
As everyone knows, change is inevitable, and PaaS has experienced changes of its own—some that have led many to say that it's a dying framework. Despite what critics may suggest, there are still numerous benefits for DevOps that use PaaS, including acceleration and simplification of app development, deployment, and testing.
As companies look to support the increasing demand of DevOps, PaaS remains one of the fastest and most cost-effective means for companies to streamline their DevOps process.
In this e-book, we discuss:
The origin of PaaS

Why PaaS detractors believe it's a dying framework

PaaS vs. IaaS for DevOps

Why there's a future for PaaS and DevOps teams
Get the e-book by filling out the form today »